The first electric toothbrushes (also known as powered toothbrush, electricmechanical brush or EMB) became available in the 1960s. Many people ask about which toothbrush is better for plaque removal and good oral health, so here you'll get information about Electric toothbrush vs manual toothbrush which are effective for good oral health.
Electric toothbrush vs Manual toothbrush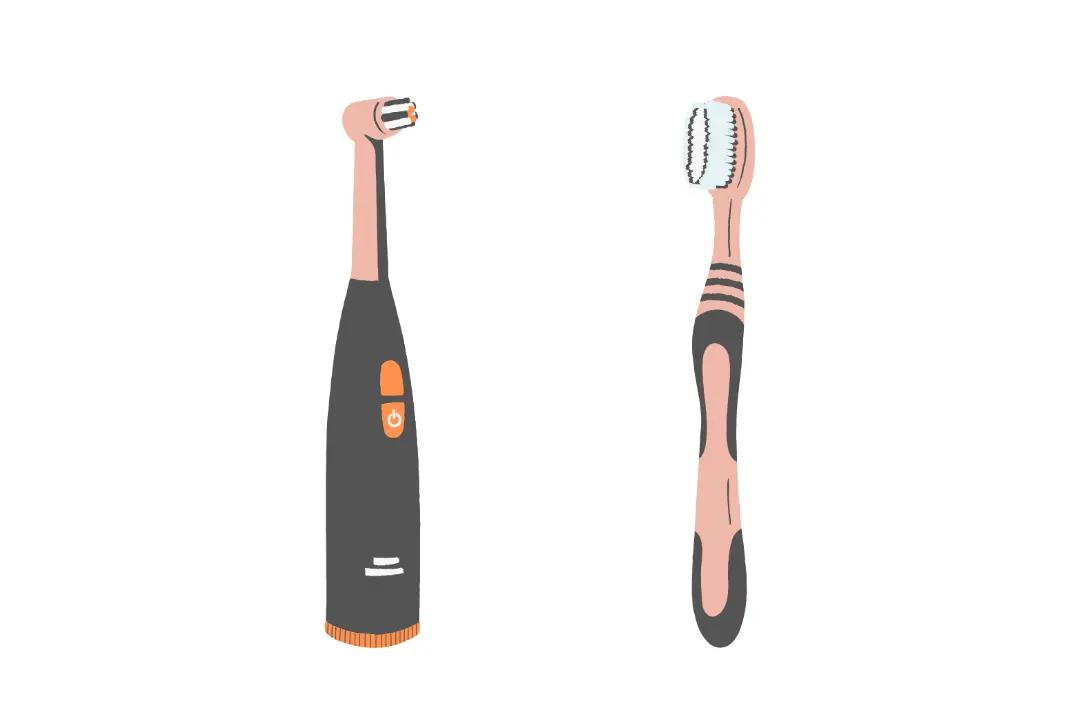 Many studies have shown electric toothbrushes work very well for good oral hygiene as they are more effective for plaque removal than a manual toothbrush. A study conducted by David A Baab, and Robert H Johnson (Journal of Periodontology 60 (6), 336-341, 1989)  shows that volunteers using electric toothbrushes significantly lowered plaque score and gingival inflammation.
The plaque score dropped from 77% to 28% and 14% before and after brushing; while manual toothbrushing shows plaque reduction from 75% to 50% and 30% before and after brushing, respectively.
The G.I. score was reduced from 1.65 to 1.28 in 4 weeks using an Electric toothbrush while the manual one showed a drop from 1.65 to 1.43; it clearly shows how an electric toothbrush is effective for plaque removal and curing gingivitis.
Electric toothbrushes are effective only if they have SOFT-BRISTLED head OTHERWISE it may wear enamel
Which toothbrush is effective, manual or electric for Orthodontic patients with fixed appliances?
Again the electric toothbrushes win the race for better hygiene during orthodontic treatment. A study conducted by RL Boyd, P Murray, and PB Robertson (American Journal of Orthodontics and Dentofacial Orthopedics 96 (4), 342-347, 1989) clearly show rotary electric toothbrushes are effective in orthodontic patients for maintaining better periodontal health.
The study was conducted during the 18-month period and eventually illustrated an increase in plaque accumulation and gingival inflammation and bleeding on probing in the control group while the group using an electric rotary toothbrush remained stable.
Electromechanical brushes are effective for fast plaque removal and include interproximal plaque comparison to manual toothbrushes. With manual toothbrushing proper tooth brushing technique is important otherwise it may cause tissue trauma and cervical abrasion, while with electric toothbrushes it is less likely to occur.
Conclusion :
Whether you choose a electric toothbrush or manual one proper oral hygiene is the key thing to achieve.
Electric toothbrushes give you more advantages as it thoroughly cleans teeth with its rotating and oscillating motion and that's why it efficiently removes more plaque. While I talk about manual toothbrushes, proper tooth brushing technique is important to get maximum cleaning, which not everyone knows and adds to their habits.
They come with a timer so you give yourself enough time to brush your teeth which is uncertain in manual brushing and people give less time for brushing with manual toothbrush which leads to not proper removal of plaque.
So, we can say that electric toothbrushes have their own advantages over manual toothbrushes. However, electric toothbrushes helps only if they're soft-bristled.